About
Us
Who We Are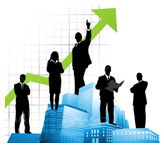 TechWyse is a leading internet marketing and development company that has built itself based on a strong communications model between its management offices in Toronto, Canada and its cutting edge production centre based in Kerala, India.
With a fleeting team of developers TechWyse boasts more than 4000 sq feet of space at its International office. House in a world class facility, all of our designers, developers and staff are trained and experienced dealing with Western ideology. For this reason, our staffs are comfortable working with a wide array of development methodologies and requirements.
TechWyse has been one of the pioneers in the offshore model, being in the industry since 2006. The result of this timeline is a refined process, experienced staff and strong business culture.
At
TechWyse International
we are fully dedicated to the success and well being of our clients. We employ only the highest qualified offshore developers to be part of the TechWyse family.
We focus mainly on
Superior technical capabilities

Impeccable customer communication

Constant training and research of new technology

Strong work ethic

Adaptability to a burgeoning international company
If your company is considering going down the offshore path, we recommend giving us a call at our Corporate Headquarters to speak about how we can tailor build a relationship that both sides can benefit from.