Application
Development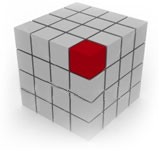 Custom Applications
Our dedicated team can implement strategies to your business which ensures your application is built with proper specifications and on time. The TechWyse team has a proven process that has been built as a result our vast development experiences since 2006.
Choosing A Path
The process starts with a TechWyse solutions architect, communicates with your business making sure we are on the right path to your business's requirements.
Once a plan is in place and the project is scoped properly, TechWyse will assign a development team to work on your project and its development.
Web Implementation
Once the development of your strategy is prepared and tested your plan is implemented into the web. With the help of our respectable team of process managers and our impeccable web knowledge we can positively develop fast acting applications that will integrate logistics, new products and company outlook.
At TechWyse we feel that our advanced applications can positively present clients with state of the art services that will not only help grow your business grow externally but also internally. Custom web applications have the ability to ease the hectic demands of your internal office, as well as outside pressures built by modern work demands.
Establishing Relationships
Once implemented our dedicated developers will submit daily reports ensuring you happy with the final product. At TechWyse International we believe communication and trust are the most important factors in maintaining beneficial application development relationships.
At TechWyse we have the solutions for your business today. So don't hesitate,
contact us
about application development right now and experience the finest the net has to offer!